In today's post I am going to tell you about our Family's Long Road Trip Essentials for Kids. We have three kids, currently 4, 4, & 6. I'm going to be as thorough as possible. I have worked hard to create a packing list that is minimal, but that in a pinch we have things on hand that we might need. I know those two things don't go hand-in-hand, but it's hard to be completely minimal with kids. Especially when you're in a car for hours upon hours.
We love to travel. I grew up road tripping with my family. We loved road trips! Don't get me wrong we flew some. As a parent, the quicker time frame of traveling by plane while traveling with 3 little people (many times without my husband) is really nice! However, I have love when we have taken little road trips.
My dad called us road dogs growing up and we loved it! This summer we are taking our second 17-20+ hour road trip with our kids (last time all 3 were in diapers and it was kind of easier in some ways). I would like to think that I am creative and that I got some of my grandpa's packing skills. He could fit everything in the car just right and use every inch of space!
Here's the # Long Road Trip Essentials for Kids
I will break this up into sections so that you can easily go through to the section you are in need of. I did end up going to different stores. We made a fun day out of it and I let my kids eat out for lunch that day. I feel like it added to the excitement around our long road trip. I highly recommend this. It was so fun seeing them get hyped up and ask questions about the trip.
Things You Already Have
The absolute easiest part! The things you already have. I had my kids go through our "little people" bucket (this includes all little figurines and small characters and random toys from Sunday School) and pick out 5 that they wanted to pack in their toy boxes.
We then picked out some legos for each of them and a small baseplates. They also each picked out a few random little toys. I gave them some free reign to pick their own toys as long as they fit into their boxes, and I would highly recommend doing it that way. I could see their wheels turning trying to decided what to bring and it was so fun.
So the home toys that were packed are:
Legos and baseplates (we have these base plates that I linked so each kid picked their favorite color to take on the trip).
Little Characters or Little People Toys
Random small items ( about the size of a kids meal toy)
Tablets (here are the tablets our kids have and after trying several they are my FAVORITE)
Target: Long Road Trip Essentials for Kids
Don't we all just love the Dollar Spot? I have to be honest though, I only bought a few things from there because school supplies were already out at our Target and they had some pretty good deals.
First I found these buckets. They are shallow and just deep enough for them to be able to play with their small toys in or eat their meals and snacks on the road.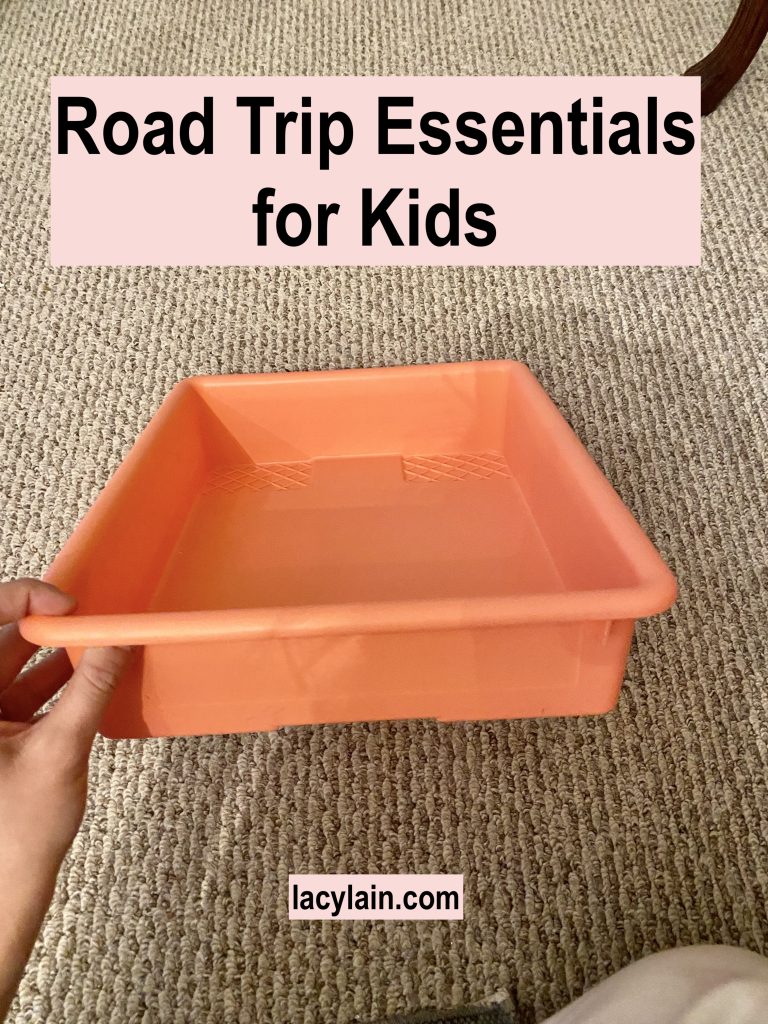 Once I had these we grabbed a few of the small coloring book packets and then we headed to the school supplies. In that section here are the things we got:
Window Markers (1 Package I split between them)
Map Pencils (3 packages)
Crayons (1 Package split between them)
Twistable Crayons (1 Package split between them)
3 Spiral notebooks
Five Below: Long Road Trip Essentials for Kids
While I love a good bargain store, I think a lot of the things in this store (especially kid stuff) is overpriced compared to the Dollar Spot and Dollar Tree. Although, their $5 headphones are a great deal! They so fun because my kids can pick out any of them and they're all the same price. We ended up with Lilo & Stich, Toy Story 4, and Disney Princess headphones. My kids were ecstatic about them.
You could definitely get more from this store, but I decided to stick to Dollar Tree for the rest just to save some money.
Dollar Tree: Long Road Trip Essentials for Kids
This is where I got the bulk of what the kids are taking. We went up and down the toy isle maybe 20 times? It was so fun and sometimes funny to watch them have the freedom to look at all the toys. This isn't something I usually do with them, so it made it special.
We found small buckets with lids very similar to the cheap shoe boxes you can get at Target or Walmart. I told them these were their road trip toy boxes and that whatever we got had to fit inside. On a side note, they matched the Target buckets we got so I was excited! Yay for matching kids stuff to color coordinate each kid and their things!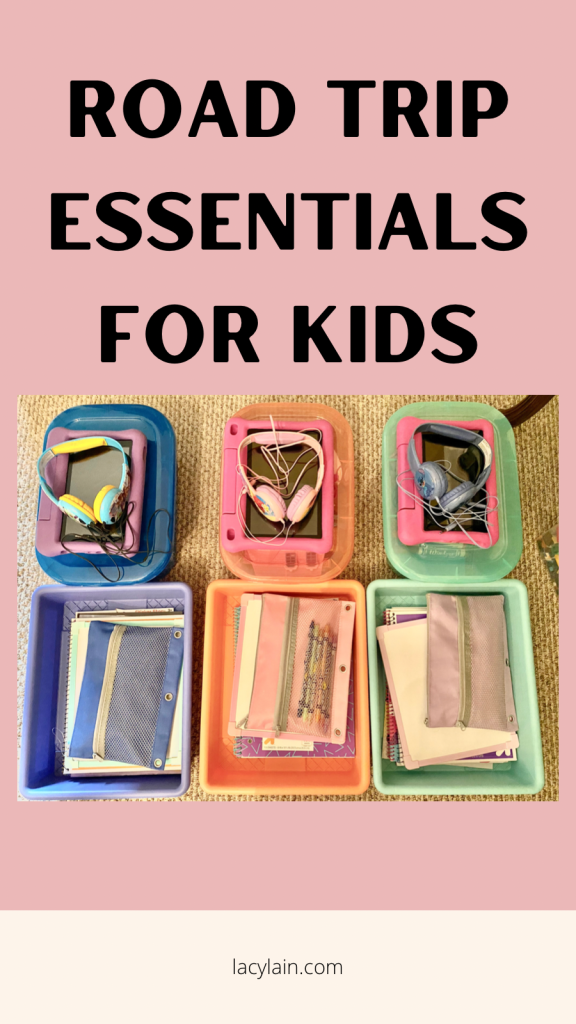 Here's what we ended up getting:
Little Dollhouse Package
Princess and Fairy Dolls with extra outfits/accessories
Fire Station with car and street signs
Fun Water bottles
Coloring Books
Stickertivity Books
Sticker Story Adventure Packs
Small Dry Erase Boards
Pencil Pouches
Another Spiral Notebook (character notebooks- pictured below)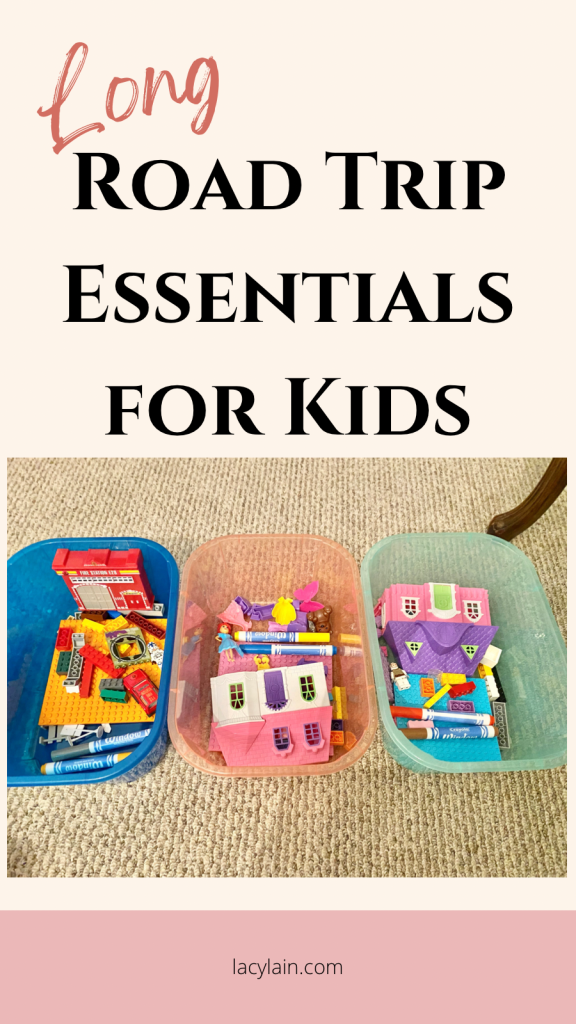 Healthy Snacks: Long Road Trip Essentials for Kids
I want to disclaimer this section before I get started telling you what all I packed. I believe there is a balance we have to find for ourselves in life. This includes the food we put into our bodies. I am an advocate for living healthy. But I am also an advocate of "sometimes treats."
In an effort to not have my kids be the ones that go off to college and eat everything under the sun that I didn't let them eat growing up. My kids had fruit loop (off brand) cereal for the first time for this trip. I let them pick out cereal because it's so easy to pack and take anywhere and it's vacation!
I am kind of torn about it, but I caved for the sake of them having a treat… which in our house is usually homemade banana ice cream. Thank you for letting me talk that out with you and attempt to justify buying the kids sugary cereal.
Here is what we packed.
In the Ice Chest:
Hummus Singles (from Sam's Club)
Guacamole Singles (also from Sam's Club)
Peanut Butter Singles
Dave's Killer Bread (side note: I do appreciate you buying things through my links and they most definitely help my family, but please do not buy bread through this link. It is way cheaper at your local grocery store. I linked it simply so that you could visually see which one we use.)
Daiya Sliced "cheese"
Strawberry Jam
Strawberries (sliced and ready to eat)
Blueberries
Apples
Bananas
Baby carrots
mustard
spinach tortillas
oven roasted turkey
In the Snack Bag
Cereal
Mixed Nuts
Cashew cookies from Aldi
macadamia nuts
Dark chocolate dusted almonds
tortilla chips with chia and flax
Freeze dried blueberries
veggie chips
larabar kids brownies
General Car: Long Road Trip Essentials for Kids
These aren't exactly things that I packed just for vacation or a road trip. These are things I have in my car nearly all the time. I like to be prepared for the random fiascos that happen with kids.
Extra overnight kit including tooth brushes
small flannel blankets
jumper cables
a portable toilet (like this one here)
A step stool
hair detangler spray
extra combs
plasticware and paper plates/bowls
napkins
roll of toilet paper
extra outfit for each person
small tent
towel
Emergency Items
These items are also nearly always in my car. I just think with kids it is good to have these things in our cars.
First Aid Kit
Feminine Hygiene Items
Extra Underwear/Panties
That is about all we fit in our car besides extra pillows and blankets. It was packed but not overflowing which was so nice.
I also want to mention I do make a commission for anything you buy from a link on my website. It is no extra cost to you, but I just want you to be aware of that. Our family is so appreciative of all the support of those of you that use them. It truly does make a difference for our family! We are so thankful for you!