First Step in How to Schedule Your Homeschool Day with Multiple Grades is to Get Organized
In this post I will discuss how I structure and schedule our Homeschool Day with Multiple Grades and how I get it all organized.
Think about what matters most to your family, and make that a priority first.
This seems like a no brainer, but so often we sit down to go over our curriculum worrying about what subjects we're going to do. We want to check all the boxes off and forget that we're in charge of our kids' homeschool so we get to choose. We don't have to follow the checklist printable we downloaded from Pinterest or Etsy in order to give our kids a well rounded curriculum and homeschool experience.
Tips for Scheduling Your Homeschool Day
Find what Works for Your Family. This seems like a no-brainer, but I have talked to several moms that printed off some cute schedule off of Pinterest, and tried to get their kids to follow suit. It ended up being a horrendous nightmare of a trial to get the kids on a schedule.
The best way I would suggest doing this is to make a list of all the things that are non-negotiable that need to be done and write that out first. Then take those things and fit them into time slots (this is a lot like time blocking). Then try it. That is the hardest part of setting a schedule. It takes trial and error, especially with kids.
The second thing I would say is to start small. Don't push your kids to change up your entire schedule all in one day. Start by changing the morning routine. Then once they all have that down, move on to the afternoon. Etc. This is similar to the tiny habits theory and it works.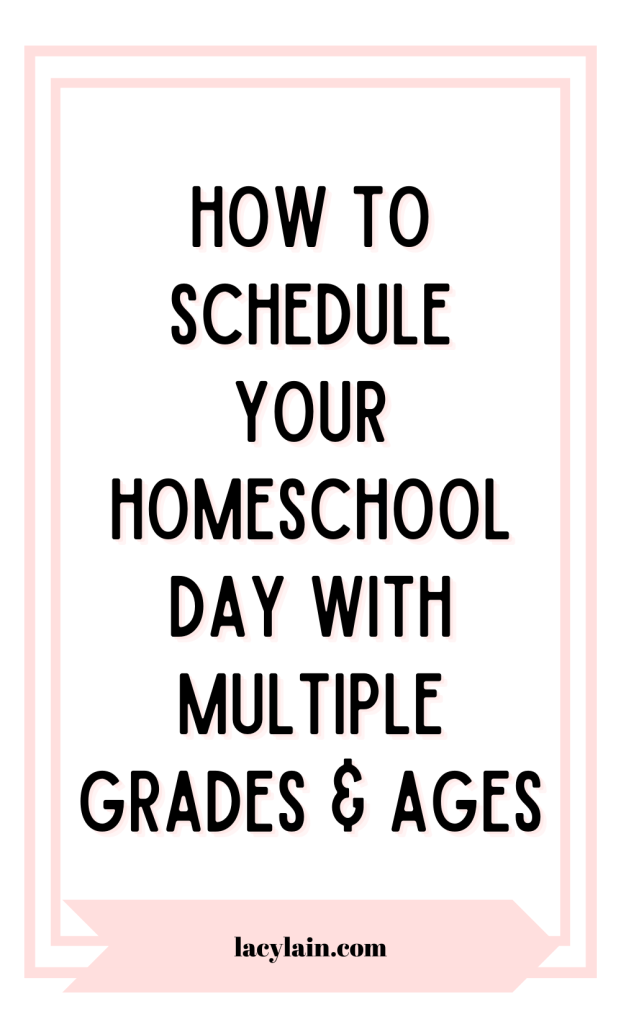 Focus on Relationships, not Academics
We all know this, right? But I still think it is worth mentioning because it's easy to get side tracked and focused on the wrong things. My kids always seem to learn better and be more focused on what we are doing when I am paying them close attention.
When I am distracted and trying to do 1000 things all at once, they don't pay attention as much and start getting irritable, fussy, and tired of doing school work. Make sure the focus is on your relationship, from one mom who needs the encouragement just as much to another. They are worth it!
Structure the Schedule
In my house I try really hard to structure our schedule with the most important tasks at the beginning of the day. This allows me to be a little more relaxed in the afternoons. This also teaches my kids how to prioritize the most important tasks that need to be done first thing and the ones that can wait.
I like to talk them through creating this structure. I feel like having them join the conversation and including them in the structuring of our day. It's a good teaching time and it's good bonding time.
Family Economy Needs First
This is the top priority in our mornings. I am not going to make this post about giving a child an allowance, but it is relevant to this conversation. I believe that our kids need to learn that there are some "chores" or jobs or responsibilities that are non-negotiable.
For example, as a part of the family, I have to cook and clean and take care of household things. This isn't a chore I get paid any money for, it's a responsibility I have as a part of this family so that we can live in a (most of the time) clean house and have food on our table and they have a clean space to play in.
The same goes for them. They may be little, but as a family member they have responsibilities such as making their beds ( they just have to "fold" their blankets and put them at the end of the bed or spread them out over the bed… not perfect, but they're learning).
They also have jobs such as wiping down the bathroom counter after everyone has brushed their teeth and washed their faces. Or cleaning off the dining room table after breakfast and putting their dishes in the sink.
This is how the family economy works. Then, if they are wanting to make some money, I can give them jobs that aren't as important such as sorting their snacks into separate bins or anything random that they can do that I could use help with. These are above and beyond their responsibilities.
Once these things are done, we do quiet time, journaling, and our morning menus. This is the most crucial part of our day. I believe it is the part that will make them better contributors to society one of these days.
Be Flexible and Adaptable
I have already touched on this a little bit, but when you are homeschooling multiple grades flexibility and the ability to adapt to different obstacles is a must. It's hard some days and none of us do it perfectly. It's a good skill set to have in your tool belt if you can learn to be flexible.
Some people are naturally flexible so this part comes easy to you and if that's the case, Yay! And while I am happy for you I would sure love to have that patience gift. Praying for it daily over here. But my kids are flexible and most of the time they are ready to tackle whatever and will go with the flow.
Make Time for Outside Activities/Co-ops
I could write an entire article about outside activities and co-ops. My kids are involved in some community sports programs and I am too. We are also a part of a homeschool co-op and I would strongly suggest bring a part of one. It's so wonderful for social needs, but also for the sweet community.
I think this can be overlooked as not important but it is! It's not only good for our kids, but it's also so much fun.
If you don't do extracurricular things, I think it's important to let the kids go outside and explore and play on a regular basis. I like to take them to do things like walk trails, play at a park, do free community events during the weekdays, etc.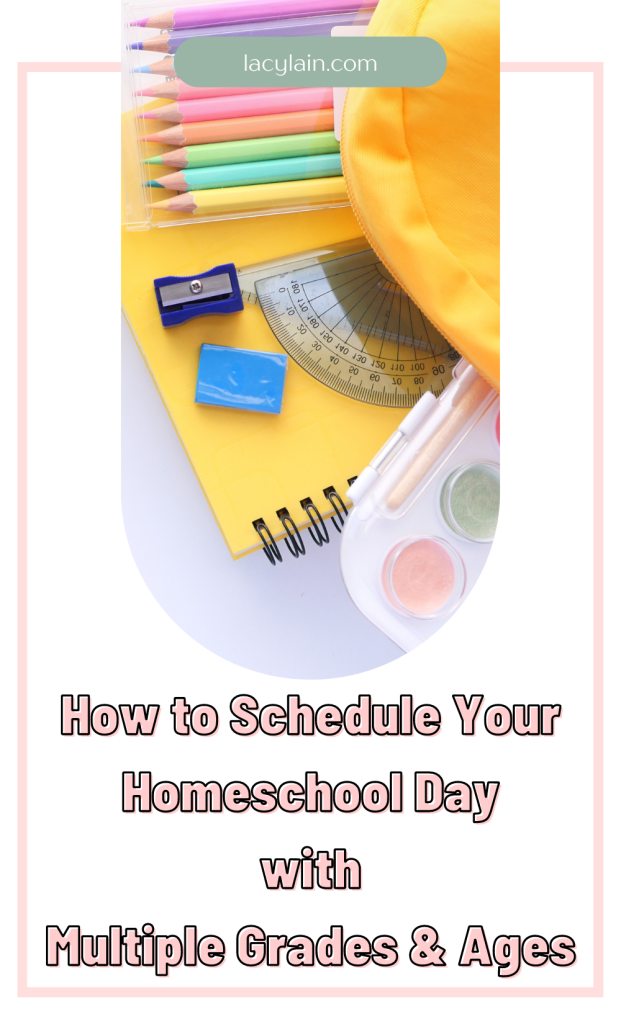 Fit in Independent Work time
This is also a must. I have to get my oldest to do some of her work independently so that I can work with the other two on tasks that they can't quite do on their own.
Independent work is so good for our kids to learn how to problem solve without us hovering over their every move. It's what I would consider a necessity for them to learn this skill and it's good for them to have some quiet without having to be entertained or needing you to help them with every situation.
Homeschooling multiple ages can be challenging but rewarding.
Homeschooling multiple grades and ages can be challenging. I am not perfect at it, but I do work at it every single day. I think it gets easier with time and with the resources we have. It's not easy, but it's definitely worthwhile work we are all doing.