In this post I am going to share with you the best first day of school traditions that I found that we now do in our homeschool.
For those that don't already know I am a former Pre-K teacher. I loved teaching and loved writing curriculum and lesson planning. It's a fun nerdy-teacher thing, I think. But I stopped teaching when I had our first baby. Now, I am a true lover of homeschooling. I still write some of our curriculum as a supplement when I need to and I share that on our etsy shop, if you are interested.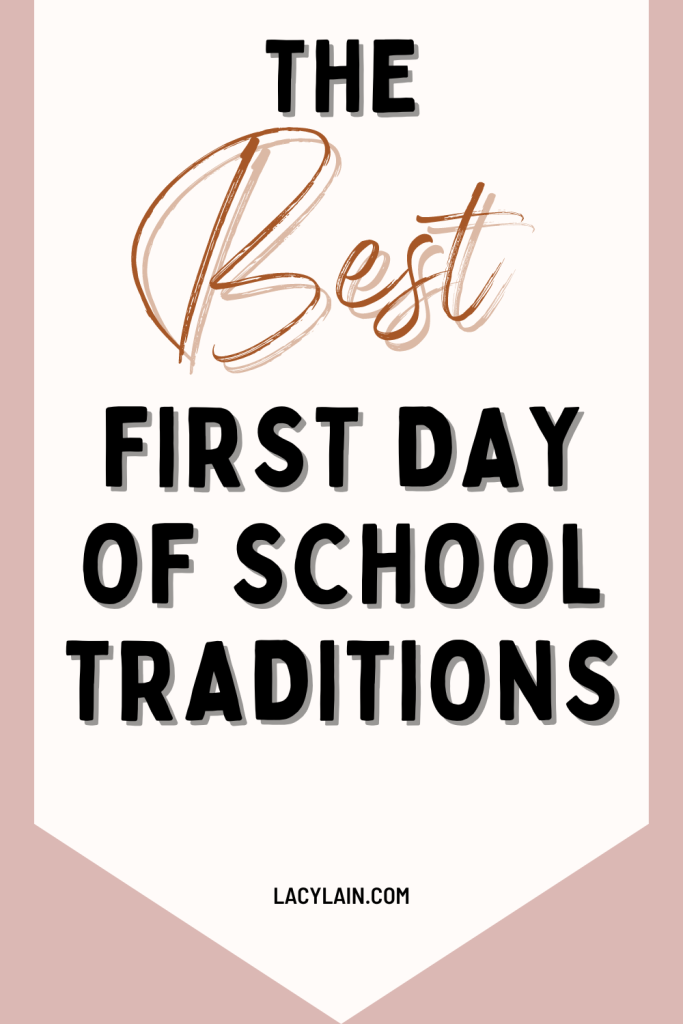 Why do you need First Day of School Traditions?
The First thing we will talk about in this post of Best First Day of School Traditions is the why. Why on earth would I go all-out and make the first day of school some big to-do thing when I am homeschooling and all the mom things and wearing a zillion different hats already? Here's why (the reason is different for everyone but I highly encourage celebrating your kids and celebrating with your kids, on a regular basis):
My husband has been diagnosed with leukemia not just once, but TWICE. His relapse hit me hard! We did all the things before he went in for that first round of chemo. Some friends paid for us to go do an animal encounter and meet beluga whales (which happen to be his favorite), they also helped us and did a family photo shoot so that (just in case, we would have family pictures because we didn't do those regularly). Some other friends gifted us a day at Disney. We were able to do so many fun things with this weird looming fear and grief hanging over us.
I promise this post will not be a complete downer, but in that time period and as we walked through his treatment and stem cell transplant, and missing Christmas with our kids. I wasn't allowed to leave and go see them because of his immune system at that time. I decided I was never going to miss celebrating with my kids again. I was going to be the mom that did go all-out. And I was going to be the mom that taught my kids to celebrate life and be thankful for each day we are given.
When I say I go all-out I also am a tight-wad and I believe that we can have "Pinterest-worthy parties" without the $1000 price tag. So, that's why and I'm also going to tell you how.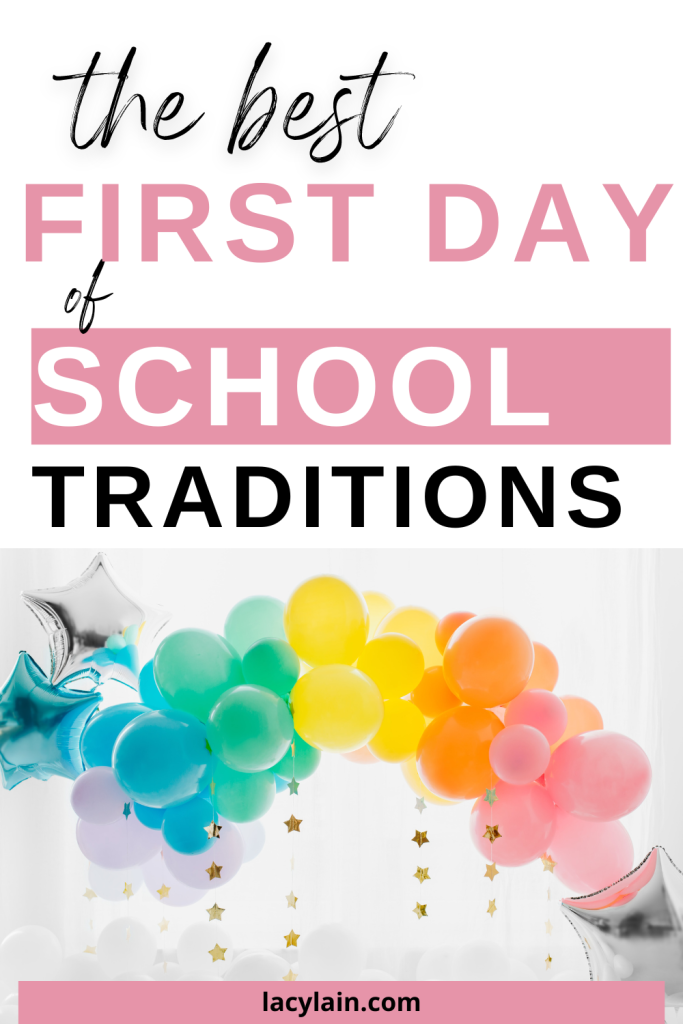 Back to School Breakfast
This is our most favorite tradition. My oldest got out a piece of paper and pen and unprompted made a list of things we needed for our first day of school back to school breakfast. It was the sweetest things because it told me she appreciates it and looks forward to it.
Here's how we do it:
I love making balloon arches. I don't know if it's because my kids love balloons or because it's extremely budget friendly and gives me a big bang for my bucks. But we love balloons for any celebration especially our first day of school tradition of breakfast. Side note: If you are a celebration crazy lady like me and you make balloon arches for every holiday and occasion for your family I highly recommend getting a balloon pump. It has drastically changed the time it takes me to get stuff set up. AND the Dollar Tree balloon strips are my favorite!
Food! Hey, you're already going to eat breakfast, so for a very budget friendly option you can just add one or two things to your breakfast to make it special. For example, I don't typically let my kids drink juice and if I ever do I dilute it #toomuchsugar. However, at Back to School Breakfast, they get to have juice. Another example would be to let them have a fruit that they wouldn't normally get at breakfast, but they love. The simpler for you (the one doing all the work) the better.
Fun plates, cups, table cloth, etc. These can be bought at the dollar store OR what I am doing this year is putting linens on our table and using the "fancy plates." I'll keep you posted on whether or not that's a hit or a flop, but I think I know my kids enough to know that it's most likely going to be a hit. We'll see.
Table decor. LITERALLY THE EASIEST THING EVER. Use their school supplies. For a homeschool family this is probably easier because all our supplies stay at home and for those going to school stuff might already be packed up in backpacks. But keep this super simple!
Printables. The best things in the world, if you ask me. They're cheap or FREE which is my kind of decor.
First Day of School Pictures
This may be the absolute easiest tradition. It probably isn't the most fun for your kids, but definitely worth it. Last year I hung a tablecloth on the wall and this first day of school banner. It was a cute little backdrop but this year (now that I have my awesome balloon pump I am doing a balloon arch too!
That's It! I love having these pictures though because we make family yearbooks and I put their school pictures in it and it's basically the cutest thing ever!
First Day of School Traditions – An Interview
This one is so fun for me and my kids and we actually repeat it on the last day of school just to see how things have changed throughout the year. I love doing these with my kids. I think it makes them feel important and gives them a sweet confidence.
Here I made a few that you can grab from my Lain Learning Free Library by signing up for my newsletter if you'd like to do this one too. This is also something that gets put in our family yearbook. I think it will be so fun to look back on years from now.
I am a sucker for freebies from other bloggers even though I create a lot of my own and I used this one as well as one I created last year.
First Day of School Traditions – Dinner
This one is also so fun! I let the kids pick what we are going to have for dinner. Every part of it. Even if it's something that doesn't seem to go together. An example of this would be spaghetti with refried beans on the side. I obviously think that this combination is weird, but my kids loved it, because they got to pick it. Simple, but so fun!
Here's a cute Dinner Menu to hang up for your First Day of School Traditions.
If you're wondering why all our traditions seem to be based around food. Well, they it's because we love food and we love to celebrate with food. My kids operate best after snacks. (:
Shameless Plug: If you need help with meal planning I have a course for that! I feel like I eat, sleep, and breath meal planning some days. But I do love it! I also love helping other moms check it off their to-do list. It's like an epic productivity hack that will help you streamline and simplify your entire kitchen routine and bonus as a functional medicine health & nutrition coach I couldn't help but add some key nutrition points for kids in there, as well.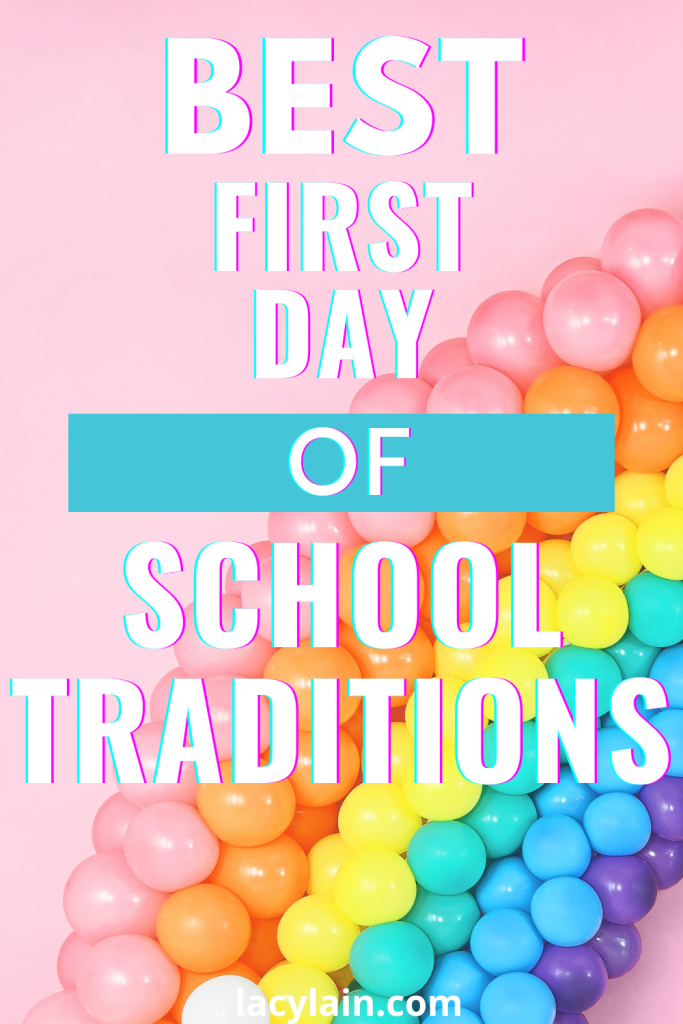 First Day of School Traditions – Handwriting Sentence
This one might seem weird (or the title of it might… at first). My aunt who was a 1st Grade and 2nd Grade teacher for 20+ years did this with her students. So, I did it with my kids last year and we will do it every year for elementary.
The quick brown fox jumps over the lazy dog.
So why this sentence? It has every letter in the alphabet. Each year you can see how your child's handwriting gets better and better.
How to do it? Simply write it on a piece of paper or if you have a dry erase or chalkboard you can write it on there and have the kids copy. I use a dry erase board.
First Day of School Traditions – Presentations
We started this last year and it was a blast! The kids already started asking if they could "have their bag for their presentation" since we are gearing up for school to start back. What's their bag? It's something we do in our Classical Conversations group.
The students take a brown paper sack home after orientation and put up to 3 things inside it. This is what they will present on the first day of school. This is similar to show and tell for the little ones, but the older kids know how to do a presentation and so they "present" the items and share about themselves.
Even though we do this with our homeschool group, we also love it with our family. In fact, each week my kids do presentations at home and at the group meeting. I highly encourage the kids to decorate or color the bag too.
Simple Traditions that Require No Prep
I realize as you read this post you might think that I have all the time in the world to do some of these. I can assure you I don't. However, I do have a planning time for our homeschool and I add these sorts of things into my lesson plans.
For those of you that don't have any time at all and want something even simpler. Here are my top things I have contemplated doing with our family.
Going to get donuts on the first day of school
If you're a donut family already, maybe try something like Chick fil a
I make my kids a cake (made with oat flour, I will share my recipe soon) on their birthdays because everyone should eat cake for breakfast on their birthday, so that also might be fun for the first day of school
Stop by a coffee shop on the way to school and get hot chocolate. (Bonus: I'm sure their teacher would love a coffee too?)
Go get sno cones after school
Let them have movie night and unwind. The first day of school is exciting and teachers make it so fun, but it's a lot of stimulation and emotions. Let them come home and chill! It's been a long day.
Go for a family walk. They've been sitting in chairs at school and chances are a walk would help get some wiggles out.
I would love to hear from you! What do you do in your family? Do you have any first day of school traditions that aren't on this list? Please share.