Why we need Quick Tips for Easy Meal Planning
We all have crazy busy lives, right? Kids, jobs, homeschooling, school events, sports events, practices, church events, work things, that meal train we signed up for and nearly forgot about that's coming up on Tuesday. So many things. Guess what! You can streamline and simplify your meal planning and prep with these quick tips for easy meal planning. It's a whole lot easier and more fun that you might think.
So what are these quick tips for easy meal planning?
Want some tips to help you meal plan that makes meal planning actually feel less of a daunting task? Well you have come to the right place. I love meal planning to the point that I almost feel like I can get a little science-nerd about it. I like to have enough fruits and veggies in our diets as well as fats, proteins, healthy carbs, etc. I can get very "numbersy" about it…
BUT Don't Worry! This post is as simple as it can get. These quick tips for easy meal planning are able to be used by anyone. They can help you transform your current meal planning system… Or start using one even if you don't currently have one. I have curated these for several years and I am so happy to share them with you!
Here you go…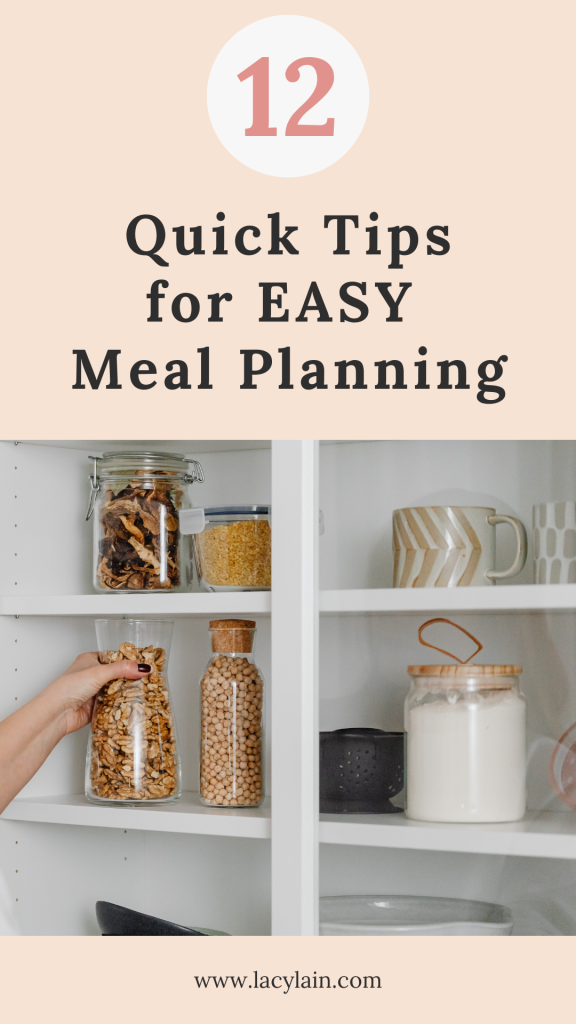 1. Keep It Simple
Before we get into these I want to reiterate that these are quick tips for easy meal planning. Thesae ar meant to be easy and quick to implement.
Gourmet meals are wonderful, don't get me wrong. They sure are tasty, but simple meals can be tasty too! On a regular basis most of us don't want to, or even have the time to cook a gourmet dinner for our families every night. Most of us are busy and have littles running around ready to eat before we even think about starting dinner.
Keeping dinner simple with healthy and quick ingredients is almost a necessity for us. It gets hard to fix healthy and quick meals for our families especially in today's world of over-processed foods. So, a really quick tip for easy meal planning is to keep it simple! Simple ingredients, simple recipes, simple dinners. They're easy and can work for us instead of against us.
2. Don't Be Scared of Repeats
So many people want variety in their diets. My husband is one of those people. He wants to eat something different everyday for nearly every meal, especially lunch and dinner. Chicken for dinner two nights in a row? No thanks!
I, on the other hand, could eat the same thing for days and days before getting tired of something. My parents used to own and operate a ranch and retreat facility and we had the same thing for each summer camp that came out every week from the end of May until the beginning of September. That actually did start to get old a few summers in to working for them. So I learned to mix things up.
A quick example of this:
We had chicken spaghetti every single week. It was a crowd favorite and mine too. However, I learned to do things like add Salsa on top to make it a Mexican Chicken Spaghetti instead of regular. Sometimes adding tomatoes to it to give it a little different spin. I fixed it all sorts of different ways to make sure I didn't tire of it.
Now, I am not scared of repeats and for my husband's sake I have learned to mix around even just one ingredient to help give a dish a little bit of variety. He is also very willing to eat something even though it's not his preference. He wouldn't ever complain, but I want him to enjoy what I make. So, I do put forth the effort to make it more appealing to him and his taste buds.
One other quick note on not being scared of repeats. It is easy on your budget and can be an easy and simple since you already know how to make it and that your family actually likes it. I typically try to spread meals out at least 3 days without a repeat. If my kids are loving something I try to do it multiple times.
3. Don't Overcomplicate it and Quit
I have seen this and heard this so very many times. "I tried to meal plan and prep my family's meals, but it was just too hard and I couldn't keep up with it anymore."
IT. KILLS. ME.
It can be the best time-saving, sanity-saving, wonderful motherhood-hack there is if it is done… right!
I have been through seasons in life where changing our diet has been the leading factor in meal planning being so complicated. A few years ago, when my husband had received a stem cell transplant during his second battle with leukemia; his taste buds and appetite seemed to change every other day. Some of our Master Meals that I had made for years, he couldn't even stomach at one point and I was clueless on what to make for him.
It finally go to the point where he actually told me not to overcomplicate it.
I learned through that and just making shifts in our diet throughout the past few years that not overthinking and complicating the process is just so much easier when it comes to meal planning.
4. Theme Nights is one of the Best of My Quick Tips for Easy Meal Planning
Theme nights can make it simpler because they almost give you an outline for each week. They give you a category, so to speak, to pull meal ideas from rather than just trying to come up with everything on your own. There are so many examples on Pinterest for recipes and meal ideas but having a theme night planned out ahead of time can make your meal planning even easier.
A theme night doesn't have to be an elaborate thing. It just needs to be a "category" or type of food that you can go by in order to more quickly come up with meals to prep or prepare for the week.
Here is a list of Theme Night Ideas:
Mexican
Italian
Asian (this could even be broken up into different categories like Japanese, Thai, Chinese, etc.)
Meatless Monday
Cold Meals
Casserole
Crock pot
Soup & Sandwich
Pasta Night
Leftover Lunch
Breakfast for Dinner
Build a Bowl Night
Smoothies for Supper
Snack Lunch (essentially a homemade lunchable)
Sheet Pan Saturday
Taco Tuesday
Etc.
These ideas are just a guide that can help you, but don't let them bind you to having to do something in the category if you don't feel like that in a certain week or you have ingredients on hand for something else.
*Theme nights can be helpful but if you get stuck in a place where you let them bind you to the theme night it could actually over-complicate things, so keep that in mind.
5. Create a Master Meals List
This is one of my very favorite parts of meal planning. I will explain what a Master Meals list is and how to use it, because it can help you simplify meal planning and take stress off of you.
Master Meals is an ongoing list of meals that you know your family enjoys that don't take you 3 hours to prepare and are what I call "an easy win" especially with picky little eaters. Sounds pretty basic, right?
Well, it kind of is. It is our fail-safe when planning out our meals for the week. The simplest way to put is is that you plan your meals, using your themes nights, and pantry outline, then when you get stuck or you just don't know what other "Meatless Monday" meal you can come up with, you don't.
You decide in that moment not to overcomplicate it and to just grab a meal from your Master Meals list and plug that in where you need it.
6. Create a Master Essentials List
This works in a similar way. The difference here is that most of us, could sit down and make a list or pull out our grocery store app and, in most cases, there would be several items that are the same month after month. For example, in our house these things are always on my Master Essentials List:
coconut sugar
nutritional yeast
cashews
peanuts
almonds
bananas
oats
blueberries
veggie noodle
lettuce
spinach
etc.
This is just an example from my list, but you get the picture. We all have essentials, but sometimes it's good for us to actually sit down and write (or type) this list out so that we can see what's on it and adjust according to our diets and the seasonal changes. For example, I buy more coconut sugar, maple syrup, and honey during the months of October, November, and December.
When you have this list you can quickly have a reference on what you need more of or change it according to season. It's not exhaustive. So, let it help you plan.
I also use this list to keep my frozen and canned goods stocked.
For example, I like to have a minimum of 5 cans of a given bean, fruit or veggie at all times. So if I check on my list weekly before I even start planning meals I can quickly see if I need another can of chickpeas, or black beans.
This ensures my pantry staples or essentials stay stocked and it allows us to have ingredients that are easy to create a meal out of in a pinch. We can do all the planning in the world, but inevitably we face a situation (for example, a plan changed from eating dinner with friends to now eating at home) and we need to have things on hand that don't make it too difficult to pivot.
7. Make a Plan and Make it a Priority
This inevitably becomes the hardest part of meal planning for people.
"What if I don't want what I planned or prepped to eat?" I see this all the time. This is that hard part. You have to do the mental work that goes along with meal planning. You have to make your plan and make your plan the priority. I am not saying that you should be so stuck on your plan that you are depriving yourself or you have no "wiggle room" in your plan.
I am simply saying that for our health and our budget and our time. If we make the plan our priority then we take stress off of us and we can check something off of our lists. I do always recommend having a freezer meal or two that your family absolutely loves on hand for those nights that you just aren't feeling like cooking or whatever it is that you have planned doesn't sound so good.
I also always try to remind myself that the Israelites lived off of manna and quail. This puts it into perspective for me. God is so good to meet all of our needs and if they lived off of that, I can get over myself if I'm "not in the mood" for something. It is also always a reminder that the Lord is so good to provide for our family.
I try to remind myself when I don't feel like cooking that we have lived off of rice and beans and that God will sustain us. It doesn't have to be gourmet or pretty it has to nourish our bodies.
This might seem extreme but I think it is a good reminder when developing or refining a discipline that in the moment our food choices (or any choices) don't have to be elaborate or of the utmost enjoyment. It is good for us to do something like meal planning for more reasons than the momentary enjoyment of food.
The plan is, for a lot of us, a sanity saver. It is a discipline that we try to create and perfect in order to give ourselves more time, our brains a check marked off the list and our lives a little bit of order. The sense of satisfaction we get in making a plan, sticking to it, saving on our grocery budget because we did, and the amount of brain power (because mom-brain is real) we didn't have to use in a week is wonderful!
Don't believe me?
Follow my meal planning guide for 2 weeks and tell me you don't notice a difference in your mood and your satisfaction in the time and energy you spend in the kitchen.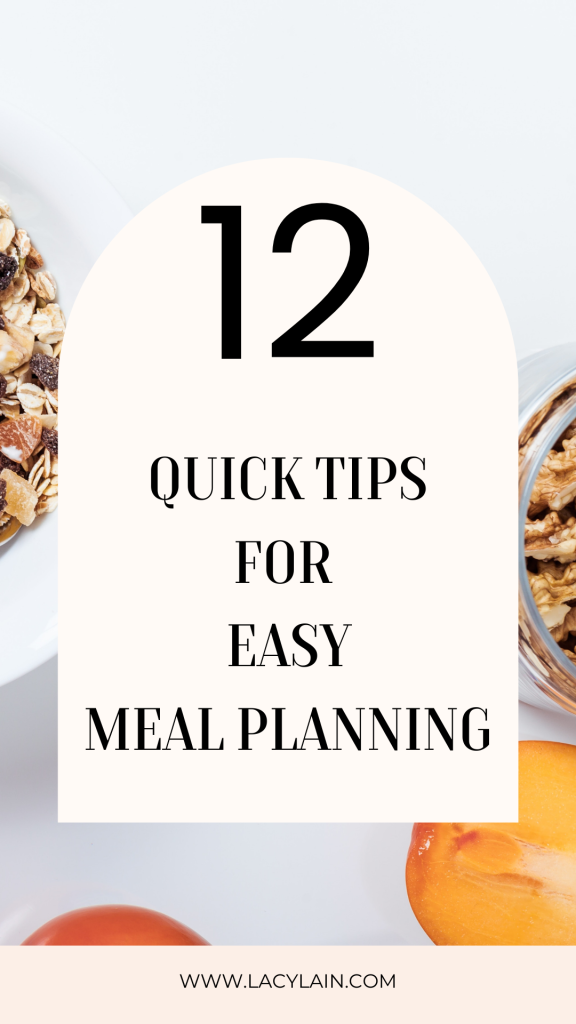 8. Make Notes from your Calendar on Your Menu
This is a game changer when it comes to quick tips for easy meal planning that can get overlooked so often. This is something I didn't know to do when I first started meal planning. I would just make a menu for the week without even looking at what all we had going on and then be disappointed because we wasted food during the week that we didn't end up using or needing.
Then I quickly realized that getting my calendar out while I was meal planning and actually putting events and things on my meal planning page was a necessity. It is so much better because I don't have to try and remember what we have going on during the week with school and church events, dance, run club, etc. All I have to do is write it in and when I go to fill out my meal plan and write out our meals, I can plan accordingly.
9. Write out the Entire Meal on Your Menu
Have you ever tried to meal plan before and then gone to make your grocery list, then gone to the grocery store and still gotten home forgetting you needed green beans for one meal and mango salsa for another? I have!
That is why I love this tip. I write down an entire meal instead of just the main course. It not only helps with making my grocery list, but it helps during the week as I making meals for my family.
I am one of those people that if you tell me to do a job, I want a bullet point list of exactly how you want it done. Can I get things done? Sure! But if I am doing it and it's supposed to be done a certain way, I want that way to be spelled out for me so that I don't have to go back and fix or change things.
That's kind of how I feel about this tip. If you can just spell it all out for yourself from the get-go that alleviates the back tracking to remember what to serve with what main course or which fruit or dessert you wanted to have with which meal, etc.
You write it ALL down on your menu and then just follow it! It makes your life and your meal planning simplified.
10. Use your menu as a Template for Your Grocery List
This goes right along with the last tip. IF you write it all down on your menu you can clearly see what you will need from the grocery store. I take my menu and add things to my shopping cart as I go through the menu. It really is the simplest process I have found yet.
If you don't have a shopping app, you can easily do this with a plain ol' list, as well. I used to do this before doing shipt (it's a grocery delivery service that I absolutely love and that link will give you and me both $10 off a yearly membership if you chose to try it). I used to write down each item on the list as I would come to it and just tally mark if I needed more than one.
Then I would take my list to my pantry and fridge/freezer and mark off what I already had in stock. I know this sounds daunting when I put it like this, but it didn't take more than 5 minutes. It is super simple.
Now I just take my phone to the pantry along with my menu and do my grocery shopping there on my phone.
11. Plan One Week at a Time and Repeat when Necessary
Planning one week at a time can actually be a little bit controversial in the meal planning world. I remember going back and forth with a friend that also does some great meal prepping on her website and we just came to the conclusion that it will depend on the family, and to figure out what works best for you.
Here is the thing though, I have also found that giving a family a jumping off point is also helpful. So, I like to say plan for a week at a time. That way it isn't overwhelming, you can reevaluate each week, and your grocery bill won't be $500 right off the bat.
When I say repeal when necessary, here is what I mean: Once you have planned out about six weeks of meals you can then just repeat every six weeks. I highly recommend doing six weeks at a time because as seasons change, so do our preferences.
An example of this is wanting a chocolate covered strawberry popsicle in the summer vs. wanting a delicious warm apple crisp with whipped cream in the fall or a chocolate covered peppermint fudge in December.
This will help you streamline and simplify your meal planning without the overwhelm. Remember, we are talking about quick tips for easy meal planning.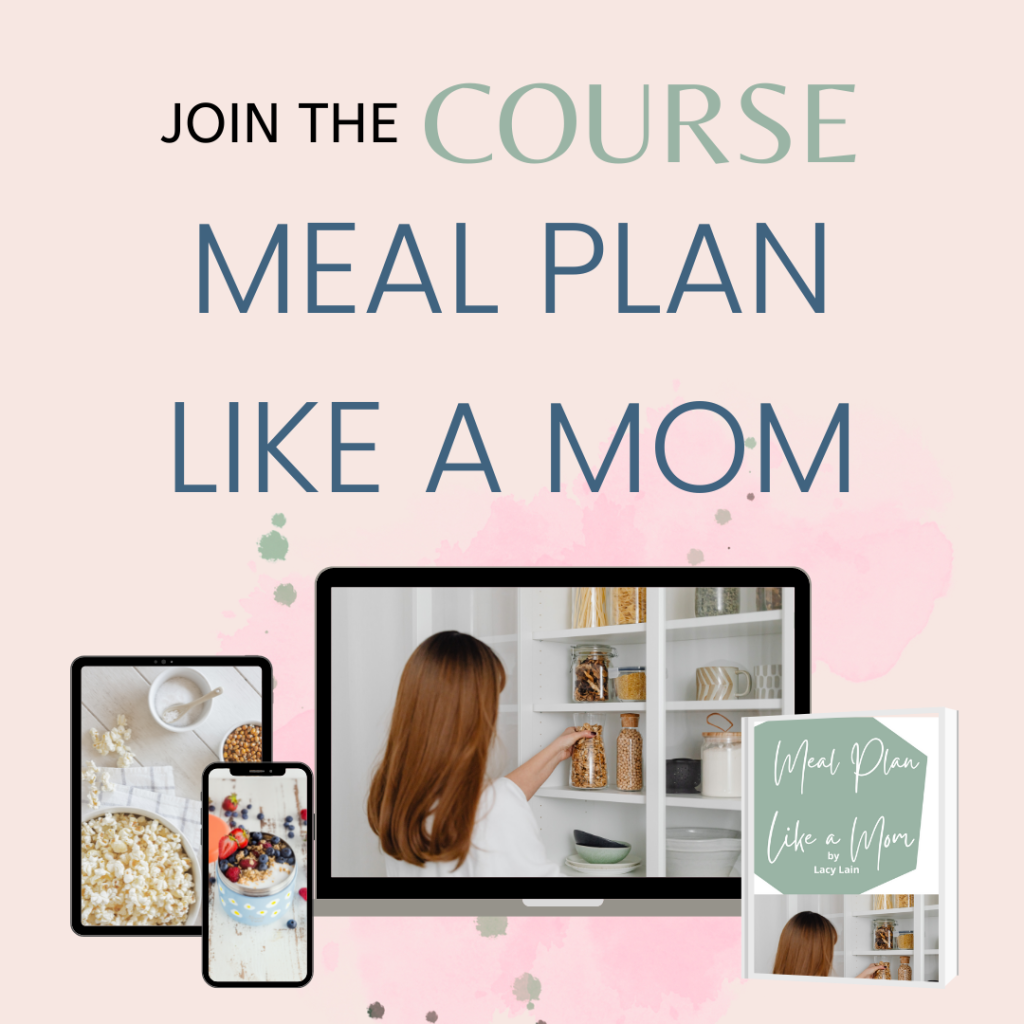 Ready to jump in full force? You want more than just quick tips for easy meal planning? You want an entire course laying out the exact steps to make it happen for you?
12. Use Master Meal to "Fill in the Blanks"
What on earth do I mean by "fill in the blanks"? On your normal weekly menu planning you won't use your Master Meals list to fill in your weeks every week. You might pick one per week and do the rest of your planning.
THEN only if you get stuck and you just can't think of anything else to cook for a given week you can refer to your MM list. This way it's no-brainer meals that you can just plug in when your having a hard time filling out your menu for the coming week.
You are obviously allowed to use any meals whenever you want, but doing it this way gives you a sort-of back up plan.
Final of My Quick Tips for Easy Meal Planning
It's hard sometimes and can be such a headache for so many people but it doesn't have to be. Just follow these tips and remember that it can be a fun process.

Make it fun! I love meal planning, honest truth… I planned for two weeks last week and this week I have twiddled my thumbs a little bit ready to plan for the next week, but we haven't gone over our plans for the next week, so I can't do it yet!

You may think I'm a little crazy at this point, but the reason I am excited about meal planning is because my system works and I have made it fun! I actually enjoy it now and I wholeheartedly believe that you will too by following some simple meal planning steps.

These quick tips for easy meal planning are the best meal planning tips there are. Curated over the years to make you the BEST meal planner!